Everly Hotel
Drive right up to the valet and allow them to open the door to your next getaway. The staff's friendly smiles and attentiveness will make you feel warm and welcomed as soon as you step onto the property.
The distinctive door leading into the hotel will leave you in awe and worry that you actually open it incorrectly, or maybe that's just me. Just a few steps in and you'll reach the check-in counter, where a seamless process will occur and the next thing you know, you're in your room.
With textures and tones that creates a calming mood in the room, you'll immediately want to throw your bags inside and jump on the bed. That is, until you find the bathroom with the most gorgeous bath tub that you need a bubble bath in.
But with my OCD when it comes to organization, I decided to unpack and put away all my things before I allowed myself to grab a drink downstairs at happy hour. The wine selections were great and the moody ambience created by the sunlight seeping in through the large windows of the lobby was amazing.
Aside from free wine, wake up early to grab complimentary coffee at Jane Q. While you're at it, get some food because their pastries are bomb and the lunch menu isn't too shabby. Majority of their ingredients are fresh from the Farmer's Market down the street and make sure to order the vegetables! They're seriously that good.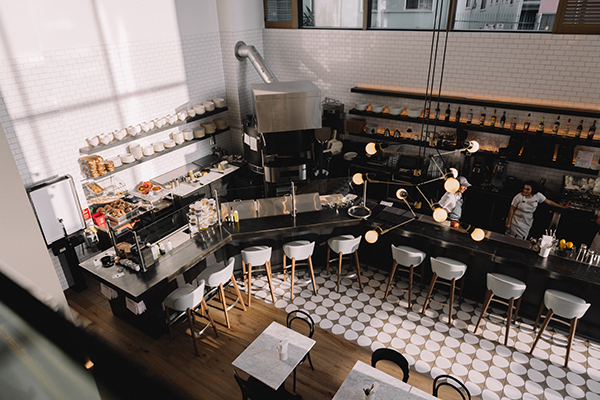 The pool isn't on the roof but you still get a great view of the city. I love how relaxing the pool was, as it wasn't too crowded during sunset and the decor matched really well with the rest of the hotel. I certainly can spend a few hours out here totally disconnected. Next door to the pool is a patio area where you can hang out with friends.
While the stay was a short two nights, I most certainly could see myself spending a week here. Located right by all the action yet still far enough from the chaos, the Everly Hotel meets all expectations and needs. It is one of my new favorites in LA and one I've been recommending ever since my stay.
to the great staff of the Everly for a wonderful time.