The Beverly Hilton
She was greeted by the valet as she pulled into the roundabout.
"Hello, welcome to The Beverly Hilton. Are you staying or visiting?" he asked.
She smiled and replied, "Staying for the night." He ripped off the valet ticket and handed it to her, asking if she needed help with her bags. She shook her head, grabbed the ticket and proceeded to the registration desk.
The first thing you'll notice upon stepping into The Beverly Hilton is the gorgeous gold wall to the right, across from the check-in area. The intricate details of the art piece is stunning and certainly a conversation starter.
Close to the entrance is a hallway with additional seating options. The tall glass windows allows the sunlight to hit inside the lobby, providing a fresh and inviting feel to the place. You can also sit and wait for valet to bring up your car here.
Available for events (max. capacity 600 people)
The Beverly Hilton is popularly known for hosting the Golden Globes and is a famous spot for celebrity photoshoots and editorials. Stars have graced this place for many years and continue to do so, however don't count on running into anybody as you'll be way too busy relaxing to even notice anyone around you.
Despite having lively events occurring everyday, from weddings to corporate parties, The Beverly Hilton's layout was made to ensure that guests get their peace and privacy amongst the happenings within the hotel.
With more than 60,000 square feet of indoor and outdoor space and 569 guest rooms, Jen and I hardly heard or bumped into anyone in the halls or even on our balcony.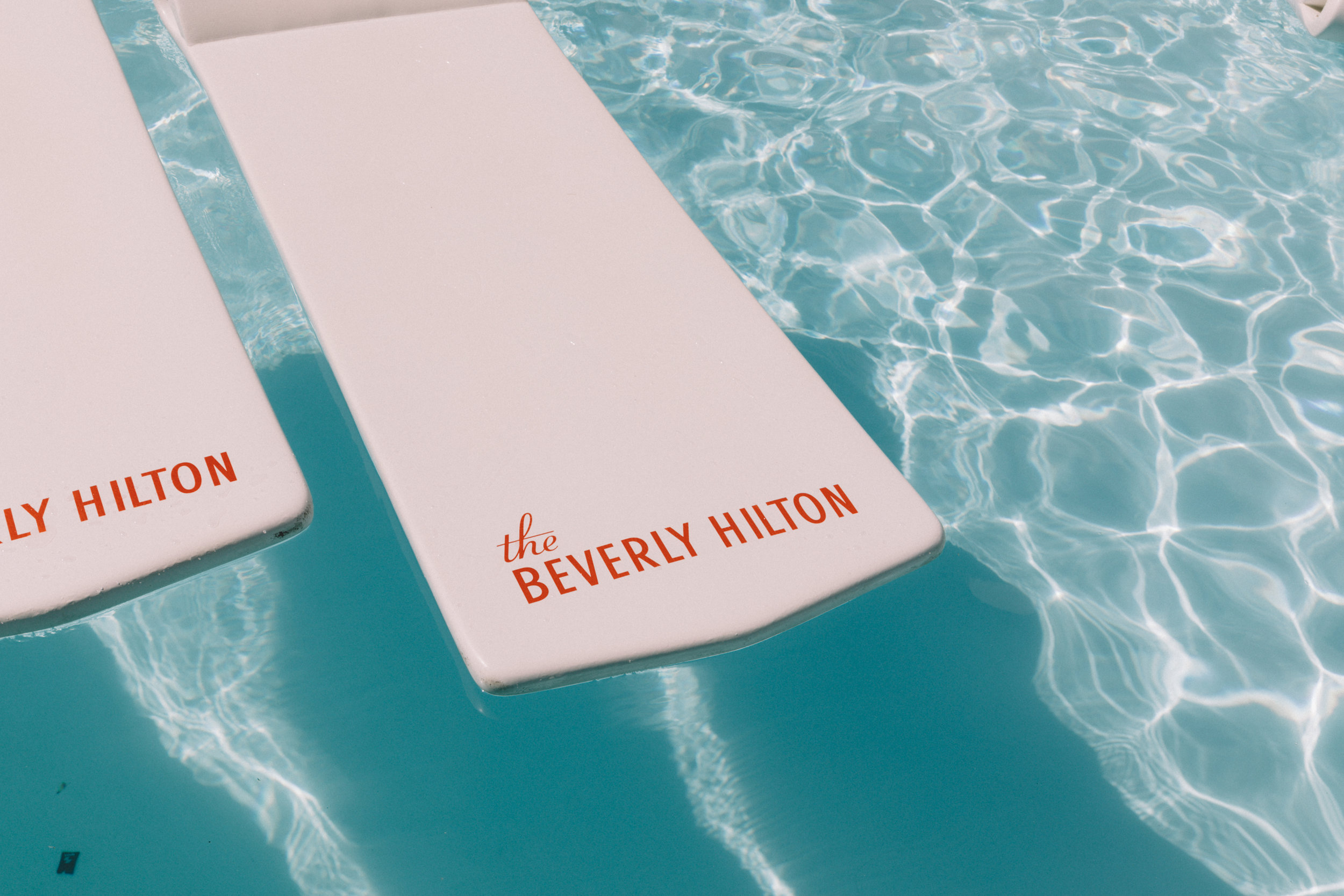 Largest hotel pool in Beverly Hills
Aside from hosting the Golden Globes, The Beverly Hilton is also popular for their Aqua Star Pool. The pool, which is Beverly Hill's largest pool, has also been featured numerously in photo and film shoots.
Rent a cabana and float about during your stay, but don't forget to try the frosé! It's so good.
Ordering food by the pool is a cinch, with waiting staff that are attentive and friendly. I recommend the fries and their daily selection of sorbet.
Needless to say, most guests are found here and will be here until sunset. If you want a less crowded time to chill, I suggest early AM where you'll just find a couple of people doing laps but other than that, the pool is all yours.
Best part? The pool is actually pretty warm in the morning so you won't get a major shock when jumping in.
If you haven't noticed by now, most of my hotel stays include room service because I'm addicted to room service - well delivery of any kind in general (i.e Amazon Prime and Postmates).
Like most hotels, you are able to order the night before and select the time for delivery. I usually pick 9AM to 10AM, allowing me to get in a couple of extra hours of sleep. All we had to do in the morning was open the door, have the food set up on our balcony, and enjoyed the view of the city as we chowed down.
Highly suggest their American breakfast, which included your choice of bacon or sausage (we chose sausage), eggs of any style, and hash browns. It looks super simple but so flavorful! We added in the Continental breakfast, which included our choice of pastries and a side of fruit. Coffee and OJ in the morning is a must for me, but there are several other options available if you don't want either.
By the way, the room comes with an iPad which makes ordering/requesting anything a breeze!
The best Swedish massage I've ever had
Alright, I've had many massages in my lifetime and am always requesting one during my stays. However, I actually walked out of my Swedish massage at The Beverly Hilton SO relaxed! The most relaxed I've ever been after a massage and this is in comparison to massages from The Montage, Marriott, and others.
If you're staying here, I highly recommend booking a Swedish massage because you'll regret it if you don't.
The spa was kind enough to open a little earlier for us that morning, as we had to jet off right after. We were greeted by staff members and shown to our lockers, which uses key cards instead of the old fashioned locking system that I'm accustom to. After changing into our robes and slipped, we were shown the lounge (aka waiting area), which featured an array of cookies and drink options. We didn't wait too long before we met our massage therapists and began treatment.
Now, the room in which the treatments are performed are basic and similar to many others. However, there is a rack offered to hang your robe to keep it warm throughout the treatment for you and the bed's temperature is adjusted to your liking. I hate cold massage beds so I appreciate all of this. The comfy blanket placed on top of you is also a plus.
I believe the massage was 50-minutes, but I remember waking up feeling so relaxed and happy. I didn't get a dizzy spell standing up afterwards and my body felt refreshed. I defintely need to book another visit soon.
The Beverly Hilton offers charm and relaxation, not to mention it's in an ideal location where shopping on Rodeo is just a few minutes away.
To be honest, the rooms may need a bit of updating - interior wise, but who really stays indoors when they're on vacay right? The pool is perfect, the food is great, and the spa is worth every penny so go ahead and indulge in the suite life at The Beverly Hilton.