Palm Springs Getaway Guide
"Ready?" She asked, grabbing her luggage.
"All set, let's go. I can't wait to hit the pool!" He replied.
She rolled her eyes and placed her luggage in the trunk. He followed after her, throwing his overnight bag in, closing the trunk, and headed to the driver side.
"Palm Springs, here we come!" He said as he started the engine.
Known for relaxation and re-energizing, Palm Springs is a quick and favorited getaway for most LA and OC residents. With a short two hour drive to the desert, you'll find plenty of things to do and yes, you can bring your pets too!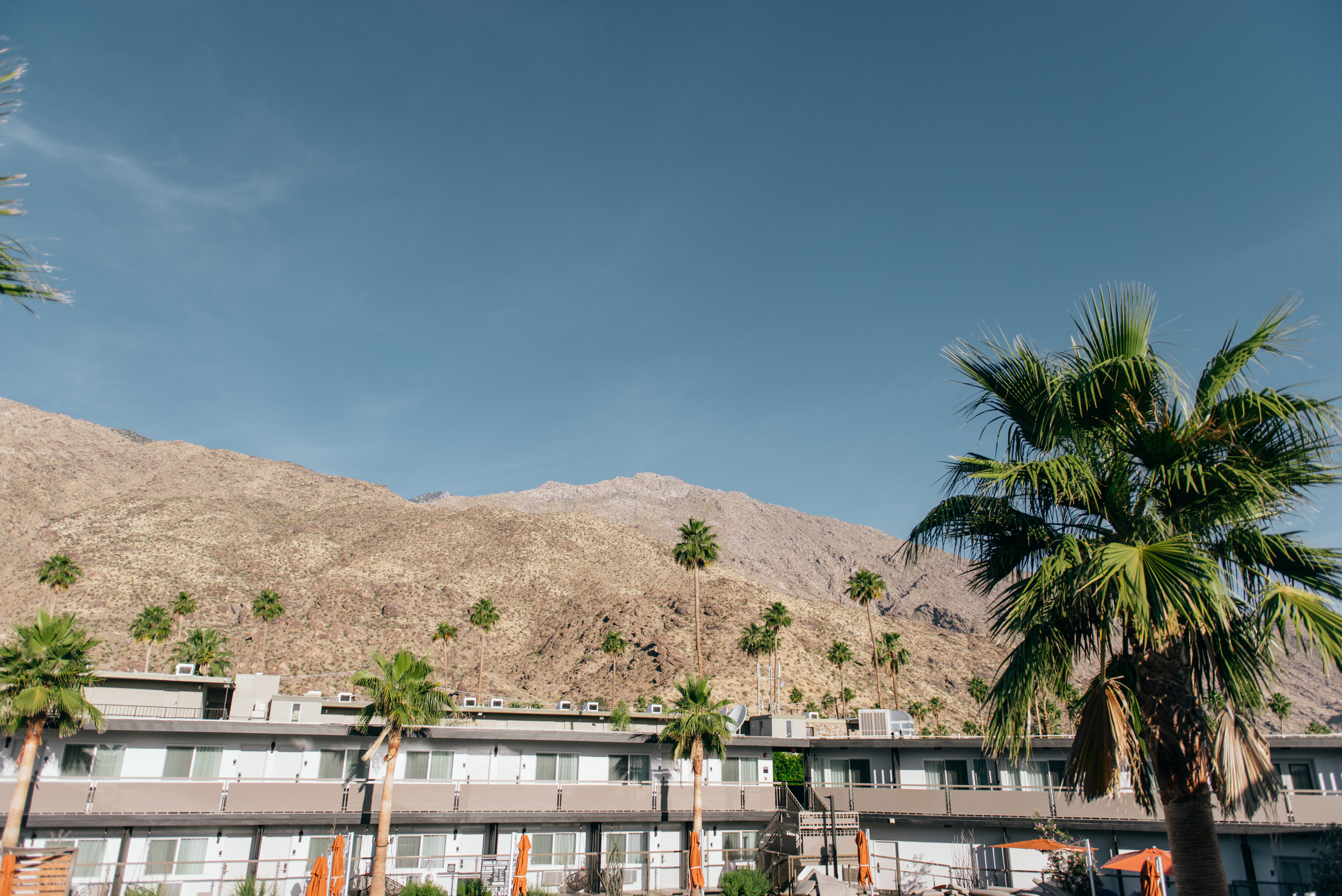 Palm Springs is known for their renovated motels and while the V Hotel has a setup of one, it certainly does surprise you on the inside.
Located just a few minutes away from the heart of downtown, the V Hotel welcomes you into their gorgeous lobby with its wide glass doors and modern chic decor.
After check-in, stroll into your room and check out the poolside view. With the heat you'll most likely experience, you'll be jumping right into that pool after you unpack.
We had a pretty spacious room and the cutest balcony swing (see below). OurA/C had broken down upon arrival, but it was quickly resolved by guest services.
Overall, this hotel is a great place to getaway from the main noise in downtown. Tucked away but still close enough to go where the party is.
While many come to Palm Springs for the relaxation that's guaranteed, there are actually quite a few activities that I would recommend to do.
Surprisingly, it was my first time doing most of these things despite visiting Palm Springs over the last few years.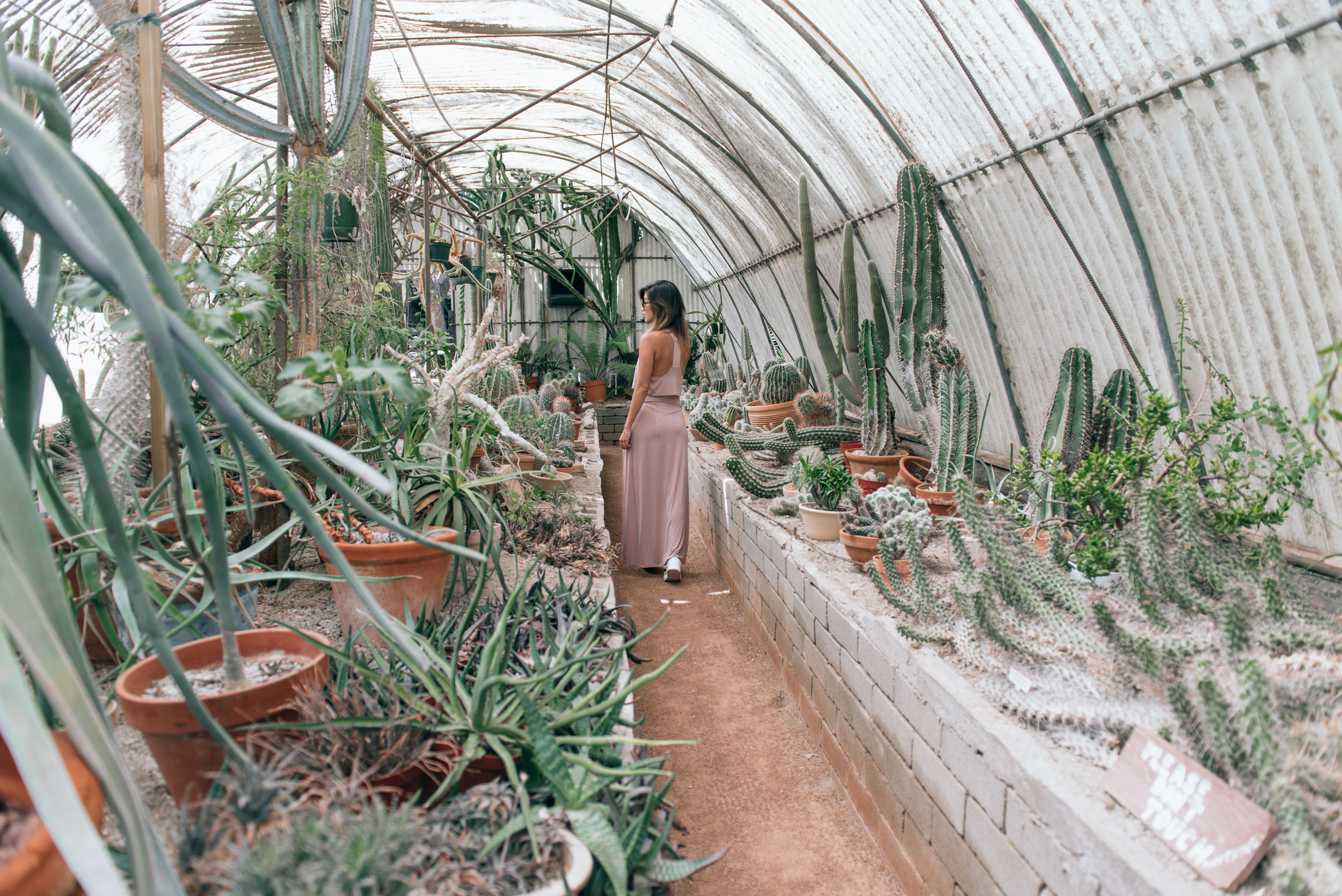 BOTANICAL GARDEN & CACTARIUM
If you're staying at the V Hotel, you can simply walk on over to the Moorten Botanical Garden and Cacatrium and spend about an hour or so exploring. While the garden offers several noteworthy spots to pay attention to, especially those cute birds, I say the star of the show here is the cactarium. I loved the variety of plants showcased and it is the best place to hide from the sun, temporarily.
Open daily from 10AM to 4PM, except Wednesdays. Children are free and adults are $5.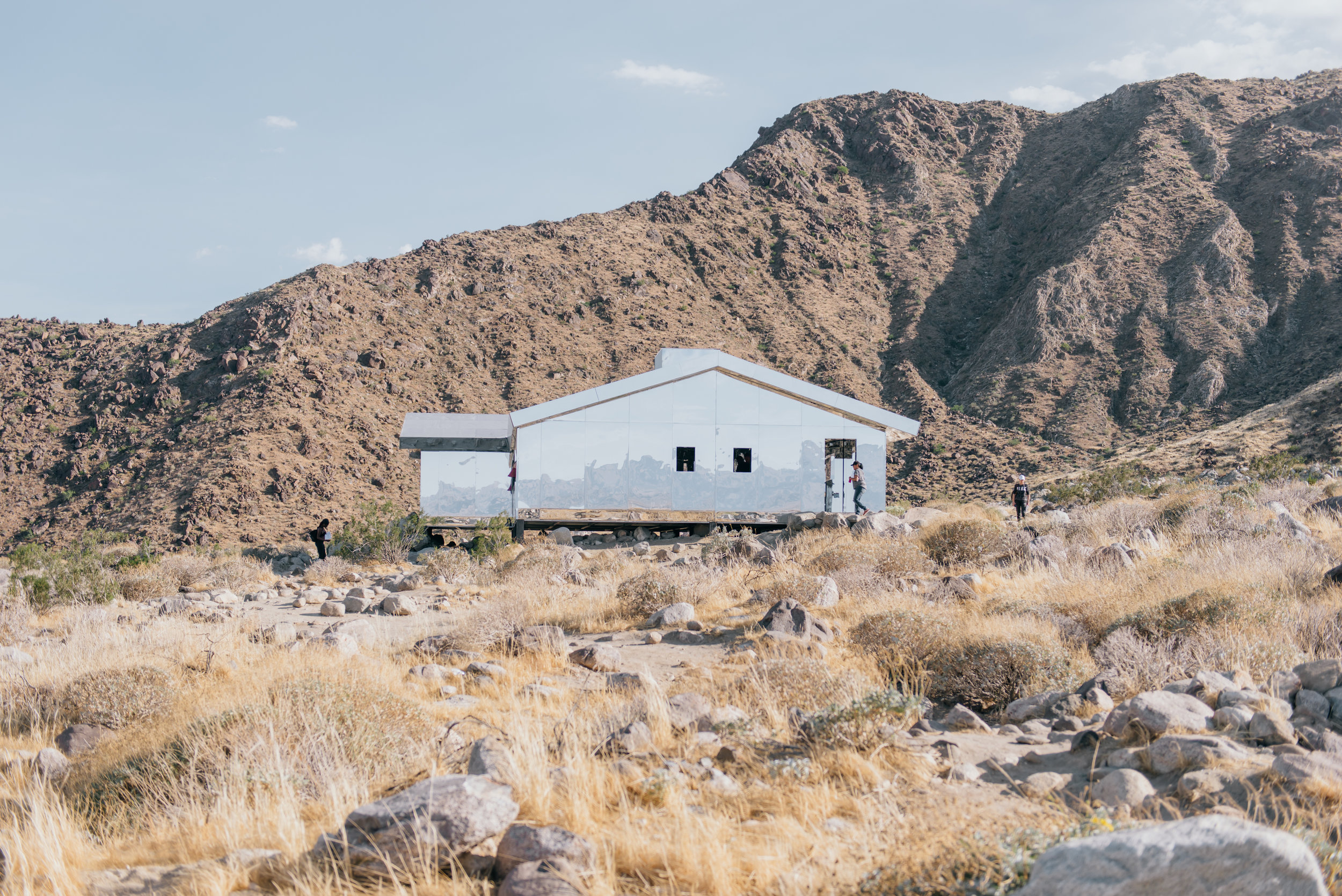 While majority of the exhibits are now closed, the famous and most Instagrammable Mirage house is still open! I believe it is open until October, but it is worth the drive and if you're in Palm Springs already, why not visit?
There is a security guard on premises that likes to hassle photographers so be warned, but aside from that, it's worth the short walk up from the parking lot. I really wish I got better photos to share, but you can thank the security guard that day for banning me from using my DSLR.
I guess that means you just have to go see if for yourself :) Totally free!
Open Monday to Friday from 3:30PM to 7PM. Weekends from 9AM to 7PM.
Note: only 25 people can occupy the space at the same time.
For directions, please click here to view the maps.
If it's too hot for you, take the tram up to the mountains where you'll be at least 30 degrees cooler.
While I'm afraid of heights, I did enjoy the aerial tramway and think everyone should do it at least once. The view at the top is breathtaking and it's the perfect way to reset before heading back home. The fresh air, peace, and quietness will zen you out.
Also, if you want to eat while enjoying the view, they have a mini food court available along with a snack bar. (Yes, my priority is always the food)
Regular Hours:
Monday – Friday – First Tram up 10:00am
Saturday, Sunday and Holidays – First Tram up 8:00am
Daily – Last Tram down at 9:45pm
For summer hours, click here.
Adults $25.95, Children $16.95 - click here for all pricing options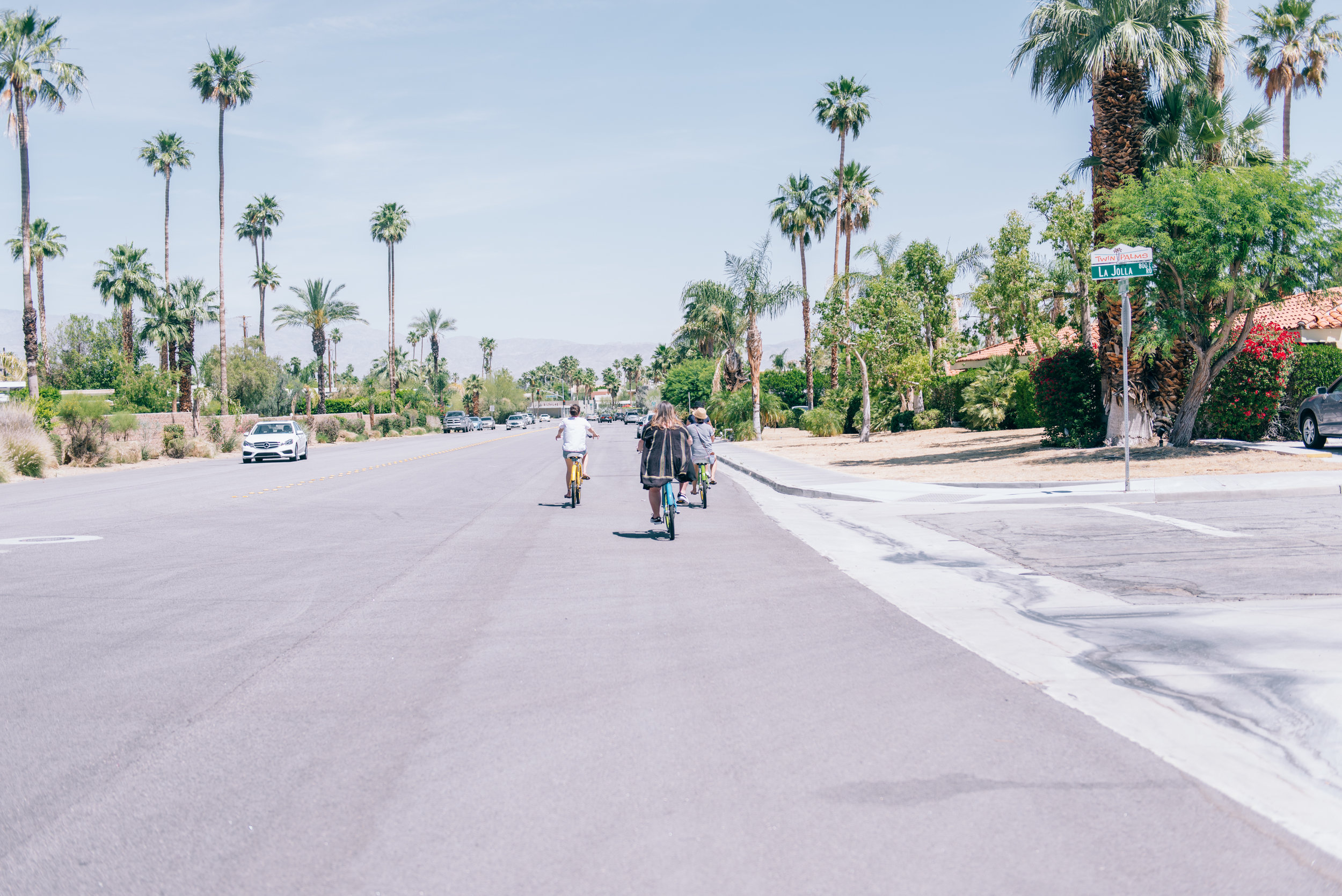 CURATED BY PALM SPRINGS STYLES
In search for the pink door? Grab a bike and go on a self guided tour of the colorful doors! Well, we were guided by the very sweet creator of Palm Springs Style, so that we didn't get lost, hah.
We started at The Ace Hotel and went around the nearby neighborhoods, learning about the history and inspirations behind the gorgeous architecture we visited. Of course our hour tour ended with every blogger's favorite, the pink door.
We returned to The Act Hotel after our 60 minutes were up and after turning a shade or two darker from being out in the sun. Certainly a fun thing to do with your girlfriends!
Before jetting back into reality, make sure to book yourself a signature massage at Palm Mountain Resort and Spa.
My favorite way to end any trip is to do treat myself to a 90-minute massage and at Palm Mountain Resort and Spa, they will certainly have you leaving the most relaxed you've ever been. Start off with a refreshing glass of water, a quick introduction and review over the areas you want taken care and then slip under the sheets for the treatment. You'll be snoozing away shortly because that's just how relaxing their massages are.
For prices, hours, and booking, click here.
Looking for a good way to start off your night? Stop at Kaiser Grill.
Located right in downtown, this bar has a great selection for happy hour and I highly suggest the Bloody Mary. We stopped by Kaiser Grill right before dinner and loaded up on a few light bites including an order of mussels and hummus to share.
205 S Palm Canyon Drive
Sunday to Thursday 11:30am-9pm
Friday to Saturday to Sunday 10:00 am-10pm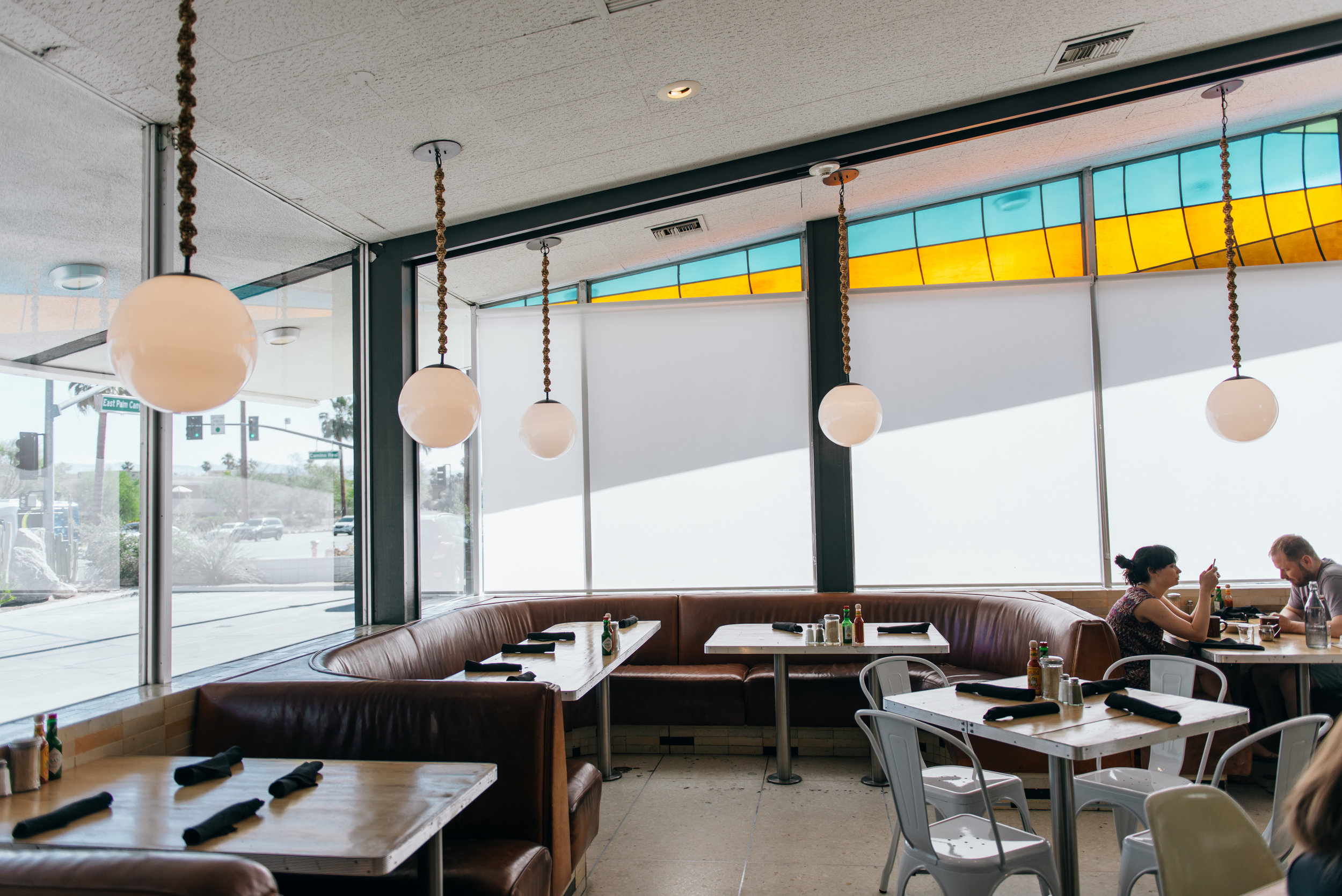 It was my very first time at King's Highway, located inside The Ace Hotel, but apparently it's a favorite amongst people.
This gorgeous diner is known for their date shake, yes you read that right and they also make it with almond milk for al those who are lactose intolerant like me! Worth a try and good for your digestive system.
Another noteworthy item to order is their avocado toast. I'll admit I'm not a big dan of avocados, but this item was done well with the mixture o flavors Would certainly order that again.
701 E PALM CANYON DR, PALM SPRINGS, CA 92264
Open everyday from 7am to 11pm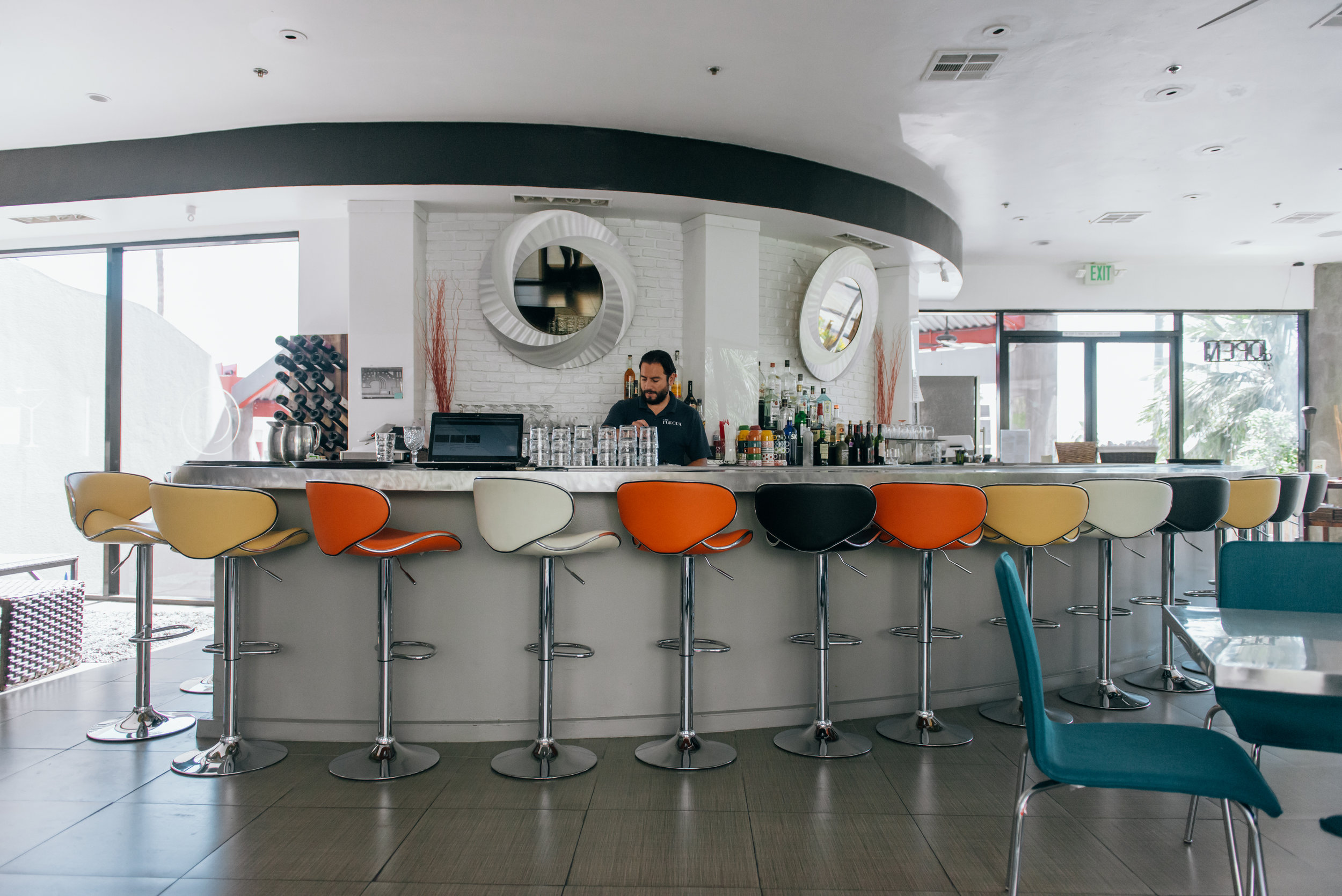 A brunch spot that works with only locally sourced food and serves breakfast and lunch on 3 terraces. Cafe Europa prides themselves on fresh ingredients that they claim they do not even have a freezer. I didn't go check, but the food certainly was tasty.
The cafe is also dog friendly so bring along your furry friends and start your day off right.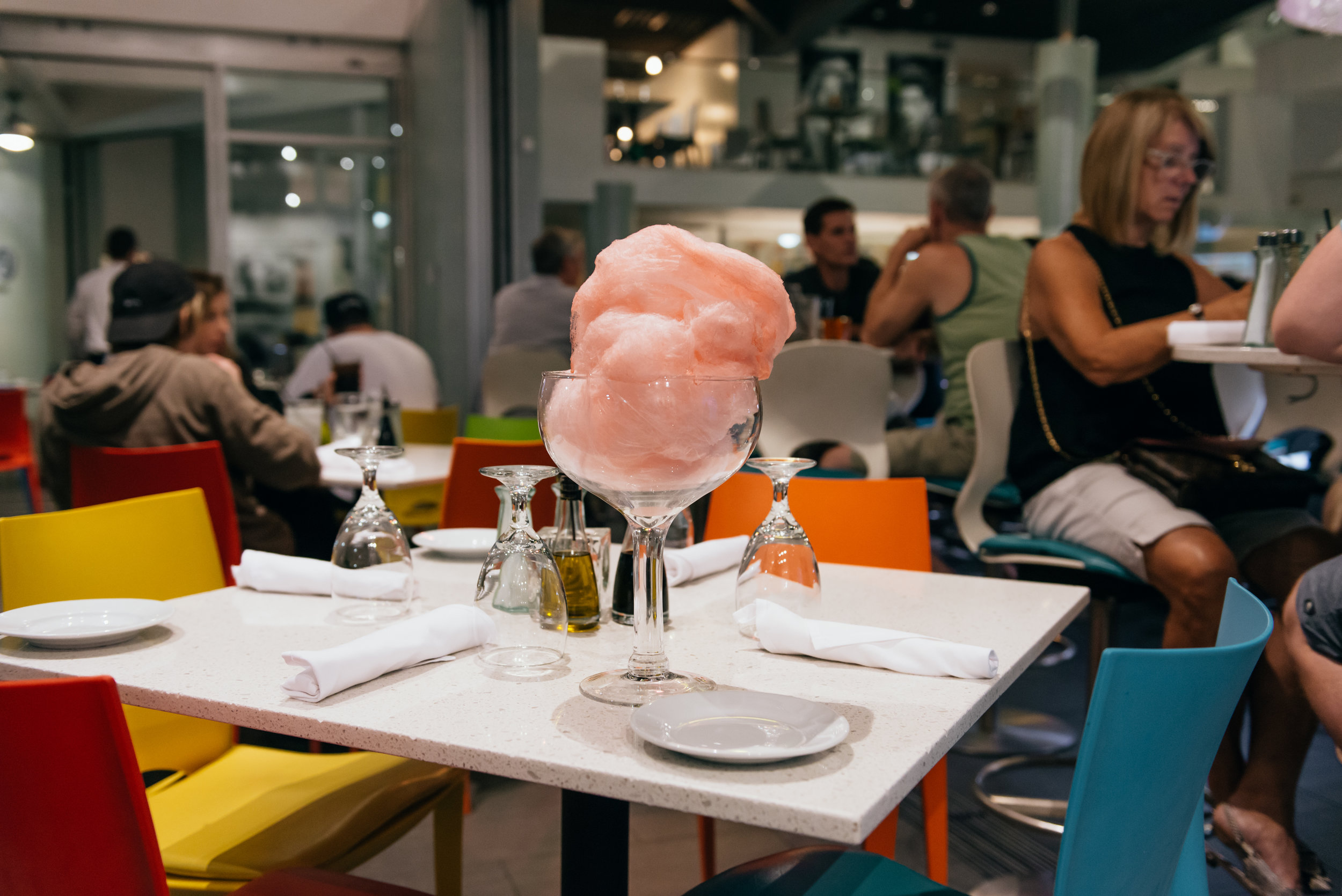 Come for the pretty cotton candy treat, but stay for the hip atmosphere.
Lulu's is known for their vibe, service, and amazing courses for dinner. Upon entering, you'll immediately feel happier with the bright and colorful decor. While the choices range on the time of day, there's one thing that's always guaranteed and that is that you'll leave satisfied.
P.S. Get the prime rib!
200 S Palm Canyon Dr Palm Springs, CA 92262
For hours, click here.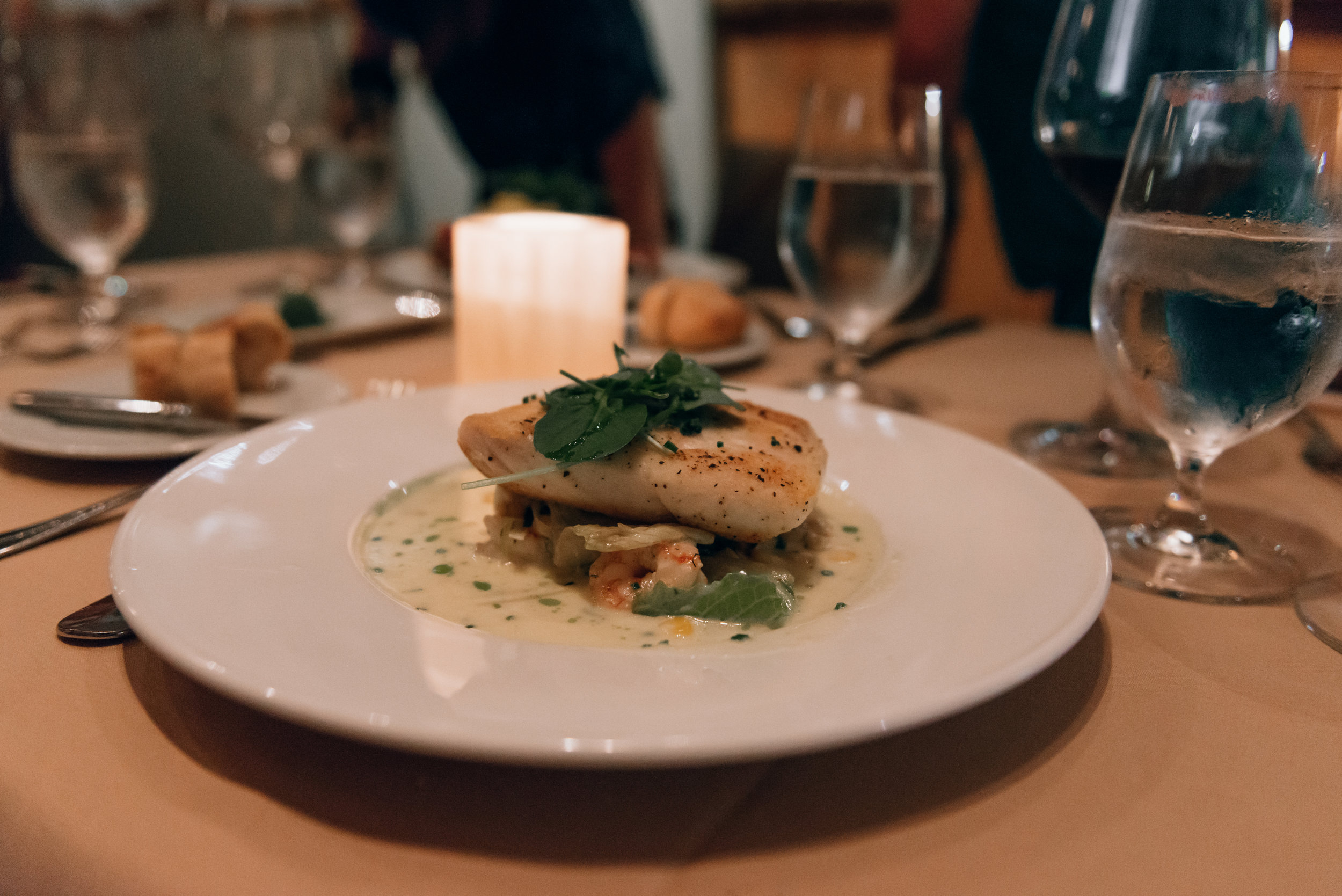 CONTEMPORARY CONTINENTAL CUISINE
For a low-key night and something with romantic vibes, try Johannes.
The mood is just right at Johannes and the food just as good as you can imagine. They're known for their Schnitzel so make sure to order that, but don't skip on the specials. I had the fish that night and it was amazing.
Save room for the dessert because you'll want to order one of each, guaranteed. Be warned that the portions sizes are big so either starve yourself before you eat there or split with your boo.
196 S Indian Canyon Drive
Palm Springs, CA 92262-6604
Open 5PM for dinner. Closed Monday.
Huge thank you to Visit Palm Springs for arranging this itinerary and taking great care of us! Also thank you MJ for taking my photos and accompanying me on this trip.