3 Days in Whistler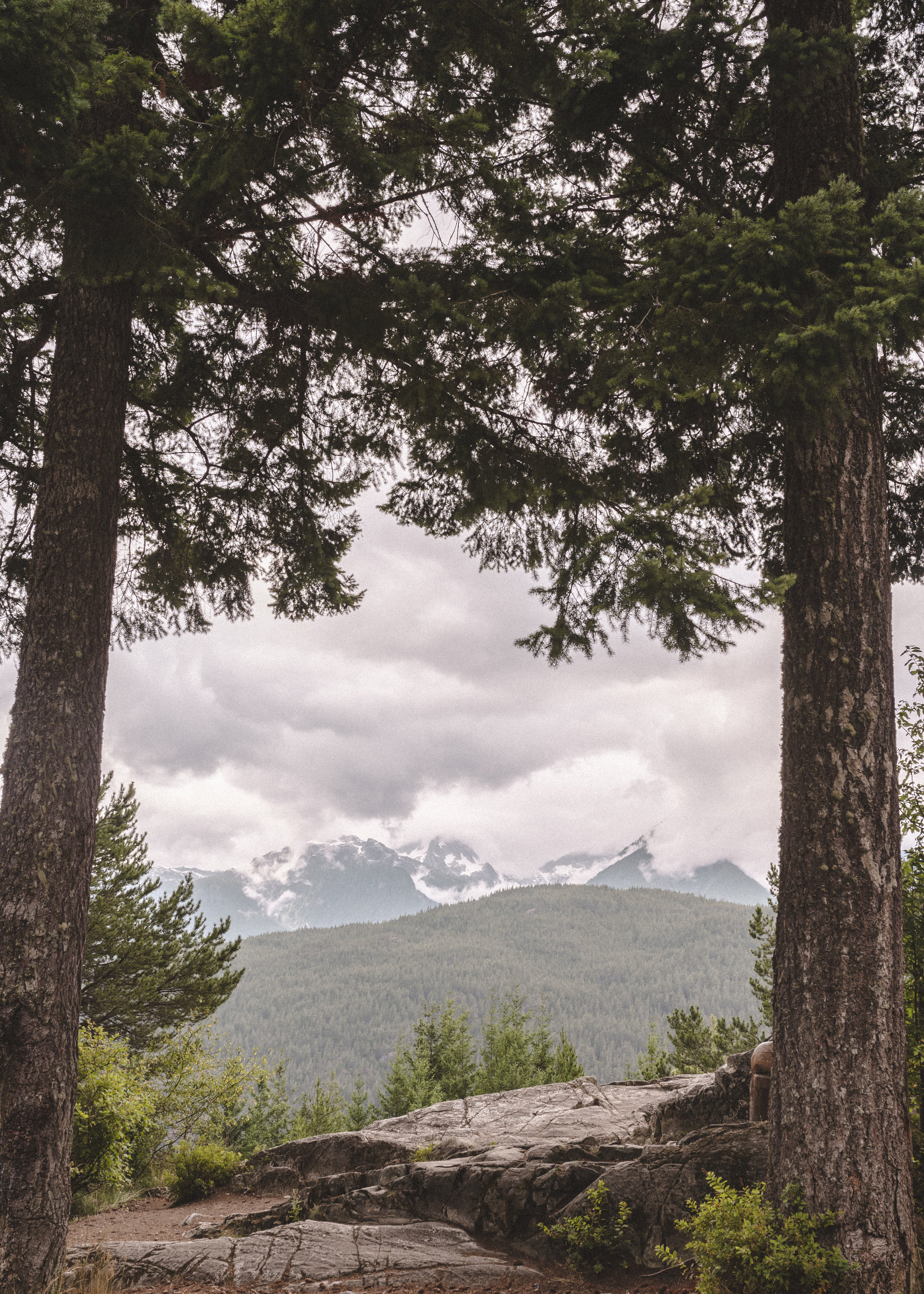 You can do a lot over a weekend.
If you're in need of a getaway from Vancouver or have some extra days while you're in Vancouver, head out to Whistler and enjoy the fresh air, ride the Peak 2 Peak gondola, and maybe get lucky and see some bears. We saw two during our 3-day stay!
There is a lot to do in Whistler and while the area is known for outdoor activities, there are also some cool museums, great places to dine, and things you can do on the milder side.
Below is our itinerary from our time in Whistler, pick and choose a few things you think you'll enjoy the most. I promise you'll have fun regardless of whatever you decide to do — or don't do. Sometimes just sitting out in nature is just as fun too.
Fun fact: "Whistler village has all amenities including hotels, condo rentals, restaurants, bars, clothing stores, equipment rentals, hospital, police, public transportation, rail service and more …" (Whistler's Best)
Getting to Whistler
There are a couple ways you can get to Whistler from Vancouver:
Bus: Single one-way fares for adults run from around CAD$25 to $70 as of 2019.

Rent a car and drive yourself: the drive is gorgeous and very simple -- take Highway 99 and drive north through Squamish. This is the best option if you want to stop and take photos or explore a bit on your way to Whistler.

Hire a car service: recommended for groups or if you really just don't want to drive. Since we were with a group, we hired VIP Whistler Car Service and our driver was awesome. He told us stories, fun facts, and even pulled over at a viewpoint to let us take photos.
Where to Stay: Fairmont Chateau Whistler
4599 Chateau Blvd. Whistler, B.C. V0N 1B4
If you're looking for a place to stay that's literally within walking distance to Blackcomb Mountain and is Whistler's landmark ski-in ski-out hotel, then I suggest looking at the Fairmont Chateau Whistler.
Upon walking into the lobby, you'll be taken aback by how spacious this place is. The all season resort destination offers year-round adventure and their guest services are worth mentioning, as they make sure to take good care of you.
KSOLE and I stayed in the beautiful Alpine suite, which had the comfiest King sized bed and cozy fireplace that we did not utilize because it wasn't really cold enough (in July). However, what I loved most about our room was that there was a clear division between the living room and bedroom. This little detail helped me significantly, as it allowed me to study in the bedroom while KSOLE worked in the living room. Yes, grad school life is real, even on vacation!
In-room dining is offered 24/7, which of course I utilized for those late nights up studying. However, there are 6 restaurants on the property and I loved The Wildflower's breakfast buffet and dinner, and Portobello Market and Fresh Bakery. Their biscuits are so good and the roasted chicken was my favorite.
Health club, fitness center, and spa are available but we unfortunately did not have time to indulge in that R&R.
Overall, the stay was very comfortable and I loved the location, as it was central to everything we did during our time in Whistler.
Oh and don't forget to say hi to Alta, the dog mascot for the resort. You may also request to take her on hikes during your stay, as I did here.
Day 1: Art and ATV
After checking into the Fairmont Chateau Whistler, we had lunch at Portobello Market and Fresh Bakery and then walked over to the Audain Art Museum (10-15 min walk from the hotel).
Audain Art Museum: come for the art, stay for the beautiful architectural building that houses 200 pieces of British Columbia artwork from the late 18th century to present. Take a walking tour, which happens daily at 1PM, or check out monthly events that you can participate in. Before leaving, make sure to snap a few photos of the building itself. It is worth showing your friends back home. By the way, this building has won awards for its gorgeous design design, so I'm not just hyping it up. (Click here for a brief look inside the museum).
Salmon Bake ATV with Canadian Wilderness Adventures: Yes, I said it. Salmon bake. ATV up Blackcomb mountain near sunset, have a deliciously prepared salmon dinner with live music, enjoy the breathtaking views, and then ATV back down before dusk. As simple as this sounds, it was my favorite activity we did the entire stay.
We were suited up before our ride with helmets, goggles, gloves, and rubber protective wear that made us look like fishermen. As silly as we looked, it is always better to be safe than sorry. Our guides took 20-30 minutes to provide us with training on how to ride and drive an ATV, which was especially important because Blackcomb mountain does have a lot of twist and turns. Luckily, my amazing driving skills kicked in and I drove KSOLE and I up and down the mountain, without falling off the side of a cliff. KSOLE had opted to be a rider and sat behind me the whole time.
The tour lasted about 2-2.5 hours and gave us such beautiful views of the entire area. While I personally did not get to see a bear, a few of our group members did and yes, I was so jealous. Aside from that, this was a great tour and I highly recommend doing it! (Click here to view the ATV)

Day 2: Golf, Squamish Lil'wat Cultural Centre, Peak 2 Peak Gondola, and Vallea Lumina night walk.
Our second day in Whistler was jam packed!
We started with breakfast at Fairmont Chateau Whistler's Gold Clubhouse, which offers picturesque views of the 18th hole. It's a 5-10 minute walk from the hotel to The Clubhouse or you can take the complimentary transfer in the hotel car that's provided to guests. Get the crispy oatmeal and salmon bowl!
Fairmont Chateau Whistler's Golf Course: After breakfast, we decided to try our luck on the golf course. I quickly found out how terrible I am but enjoyed the incredible views around the course. Also, I got to see a bear casually walking across the golf course, so I was happy regardless.
Squamish Lil'wat Cultural Centre: We visited the Squamish Lil'wat Cultural Centre for a private tour and Holistic Indigenous Tea Offering, paired with hors' d'oeuvres. We learned about the history and culture of the Squamish and Lil'wat Nations, while walking through the forest and museum. We ended it off with tea and some light bites, all of which were delicious.
Fun fact: "Whistler is located in the Cheakamus-Green divide which was the main trading route of the Squamish and Lil'wat First Nations people long before the arrival of Europeans." (Whistler's Best)
Peak 2 Peak Gondola: "The Peak 2 Peak Gondola is a tri-cable gondola lift at Whistler Blackcomb Resort." For stunning 360 degree views of Blackcomb, take the Peak 2 Peak Gondola, which is 1,427 ft. high and takes about 11 minutes to ride (each way). For those who are want a little more thrill, they also offer glass floor lifts. However, the wait time to get on one of those can go from 15 to 30 minutes versus the few mins for a regular one. (Click here for a look inside the gondola).
Vallea Lumina Night Walk: This night walk is offered in the summer — well, honestly it was more like a night hike so wear comfortable shoes and be prepared to climb lots of stairs (1.5 km). The entire experience can take an hour or so, depending on how fast you walk, and features lights shows and other interesting surprises. Best for families with kids. It is outdoors so plan your outfit accordingly, as it does get cold.
Note: there is no parking at the venue. You must take a shuttle bus from the bus stop on Blackcomb Way.

Day 3: Hike Whistler's Train Wreck Trail and Suspension Bridge
The last day began with the breakfast buffet at The Wildflower and ended with a guided hike through Fairmont Chateau Whistler's experience guide program.
Hike Whistler's Train Wreck Trail and Suspension Bridge: This is when we got to meet and hang out with Fairmont Chateau Whistler's furry mascot, Alta. We had a guide along with Alta, who led us on this easy and brief (15-20 mins) hiking trail. I believe all ages can do this trail.
The train wreck site is a popular attraction and is located near the Cheakamus River, south of Whistler. The colorfully painted box cars have sat in the forest since 1956, after a train wreck occurred. There is a suspension bridge leading to the wreck that is also picture worthy, but it is highly suggested to visit this area before 11AM to avoid the crowd.
Fun fact: There are daily outings led by Fairmont's Whistler Experience Guides, which also includes mountain adventures, village tours, and indoor activities that are 'off-the-tourist' track.

The 3 days in Whistler was just enough for all the activities listed. Of course, if you want to go at a slower pace, I'd extend your trip by another day. There's plenty more to do, especially at Blackcomb mountain. You can probably spend an entire week in Whistler and do something new everyday. Either way, Whistler is seriously one of my favorite places to visit as the air is always crisp, the people are so friendly, and the views aren't too shabby.
Big thank you to Fairmont Whistler for hosting and taking the best care of us!
Disclaimer: This trip was a hosted press trip, however all opinions are 100% my own.