7 Must-Try Food Spots in Oahu
If you're heading to paradise, please make sure you have a large enough luggage to place me in. I need at least 6" of legroom and don't forget about the air holes.
No seriously, please take me with you.
Oahu may not be as peaceful and green as Maui, according to the locals, but it sure has some great food spots. You really cannot go wrong with where you decide to eat, but if you're stumped (or lazy) on locating restaurants, here's my 7 favorite places in Oahu.
A Vietnamese influenced restaurant located in Ward Village Shops, Piggy Smalls is the sister restaurant to the popular The Pig and The Lady. While the two restaurants may be siblings, Piggy Smalls definitely has a more casual and hip vibe to it.
What we ordered:
LFC (Laotian-style fried chicken): twice-fried chicken wing with "money sauce" and peanut slaw
Pho-Strami: hybrid of a banh mi and French dip
Chicken Pho
Vietnamese Ice Coffee
If you Google The Pig and The Lady or Piggy Smalls, you'll see plenty of reviews on the LFC. It is truly worth all the hype and then some. The crispiness of the wings, the sauce, and even the peanut slaw are all on point. It was so good that we ordered another round shortly after devouring the first plate. Trust me, order enough so that each person has at least two wings.
The Pho-Strami and Chicken Pho were our main entrees and both did not disappoint. The banh mi and French dip hybrid is another popular item amongst Yelpers and within the first bite, you can see why.
One of the newest restaurant on this list, The Brilliant Ox is located in the Ala Moana shopping center, which means there is plenty of parking. The gorgeous interior will keep your eye wandering while you're seated, and while the service is great, the food is even better.
What we ordered:
Roasted bone marrow
Ox fries
Crispy pork belly
2135 Waiola St. Honolulu (Opens until 6PM)
Need a dessert break? Grab an ice cold, colorful shave ice at Waiola. This popular destination is a must visit for first timers and while there are many choices to choose from, going for a small POG cone with condensed milk is always a winner in my book.
Please note that there are instructions posted to help you order and keep the line moving. The most important thing when ordering is to indicate exactly how many shave ice you're ordering, if you want toppings, and make sure you have your money ready.
2427 Kuhio Ave Ground Fl., Aqua Pacific Monarch Hotel, Honolulu
Are you ready to have all you previous musubi experiences be put to shame? One bite into the spam musubi here will make you want to come back every single day you're on the island. It made us even stop by on the way to the airport to stock up for the flight home.
Upon researching, we found that it is the rice that makes this place stand out. We were told that the rice is imported from Japan directly, which is why the texture is different and the flavor. I'm drooling thinking about it right now. Make sure to try all the options offered and there are other locations around the island, but we heard this specific one is the best and/or is the first one to go here!
1039 Kekaulike St. Ste 113, Honolulu (Open until 3PM)
A local favorite that gets straight to the point. This poke spot will leave your taste buds tingling and your tummy happy AF. While it can be tricky to find, it is well worth the search. Hidden inside the market, this stall serves the freshest seafood and the most delicious tuna that melts in your mouth.
I was too busy enjoying this and the musubi that I totally forgot to snap any photos, but that's a really good thing right?
675 Auahi St Honolulu, HI 96813
If you're looking for an Instagrammable coffee spot that has good coffee, food, and great lighting, you're in luck. Located in downtown, ARVO Cafe is open 7 days a week and yes, they have avocado toast. The staff is friendly and attentive, and if you're stuck on what to choose, they're extremely helpful in narrowing down a few choices for you. I personally love the lavender latte!
Attached to ARVO is Paiko, a cute succulent shop featuring beautiful plants and planters, and Milo, a clothing store. In addition, the cafe is located in a plaza that offers plenty of parking. The only downside is that seating can get complicated if the cafe is at its peak hours or on weekends, as outdoor seating is limited.
66-472 Kamehameha Highway, Haleiwa (via Google maps)
If you're seeking shrimp, the only place to go is Giovanni's Shrimp Truck. This is worth the drive to North Shore over and over again.
We made it just before closing time and were able to grab a hot plate of the "no refunds" hot & spicy shrimp, which is delicious and worth the mess. Just bring hand sanitizer and you'll be fine. Also, don't share. That was our mistake (haha).
Again, since it was late and we rushed to get our order in, we didn't grab any photos but you can Yelp it for all the goodness.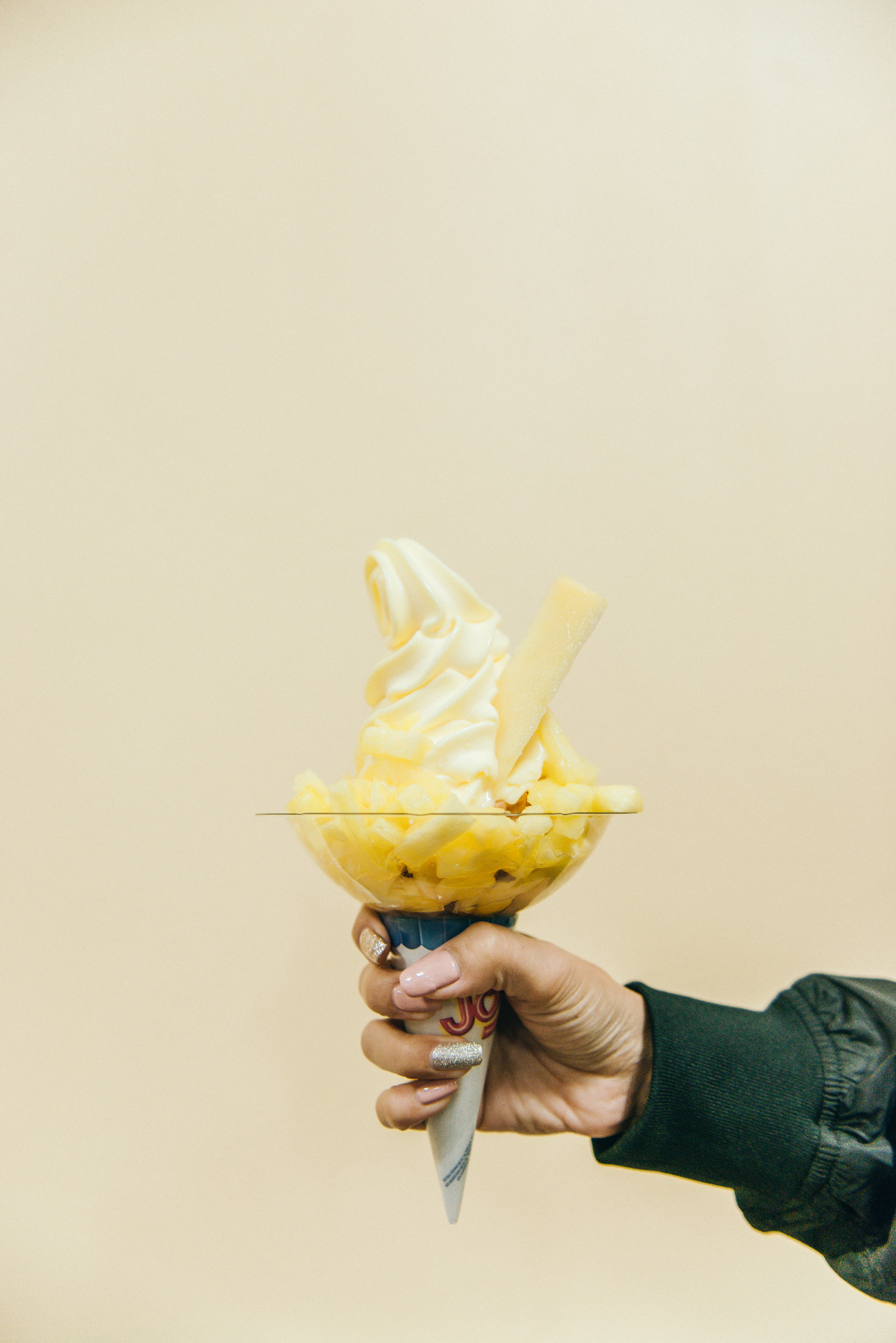 Bonus: Dole Plantation may be considered a tourist trap for many, but the dole whip there is worth the visit!
Regardless of where you decide to eat on the island, I'm sure you'll be satisfied. There are so many great spots and I cannot wait to go back to explore more!