Kendall's Brasserie
Extend the night out or start it off with a French restaurant in Los Angeles, that's located right by the Music Center. Kendall's Brasserie is a gem that I just discovered and fell in love with, from the lively bartending staff to the high quality, consistent service given throughout the meal. It is my new recommended date night spot for those looking for a place that has excellent Instagrammable worthy entrees that is full of flavor.
Kendall's is under the Patina Group and like the majority of Patina's restaurants, it does live up to expectations and with the new interior renovations earlier this year, it is certainly a gorgeous place to dine.
There were two things that stood out to me during our experience at Kendall's, one is the bird enthusiast bartender who everyone knows and loves, and the semi-hidden speakeasy that is open in the evening. I love a place that has characteristic and in-between the courses, having someone who was so full of life to talk to, that everyone comes to see and trusts with their drinks, is amazing. While I cannot remember his name, because I am so bad at remembering names, you can quickly spot him behind the bar as he'll be the ones calling out everyone's drink around him. He memorizes what his customers love and shares such great stories, as he spent time telling us about his bird sightings and his hobby of photographing them during his spare time.
The semi-hidden speakeasy is open later on in the evenings and is closed off by a curtain from the remainder of the restaurant. Tastings along with live musical performances are offered here and why not just walk on over after dinner? That portion of the restaurant is just as gorgeous as the rest, but has a nostalgic feel and certainly takes you back in time. I highly suggest stopping in and joining their upcoming events.
Now, of course, I can't forget the food.
To start, we had the steak tartare and heirloom beets. Both were great appetizers and I loved the addition of the pistachios on the heirloom beets.
In addition, we had an Old Fashion and strawberry lemonade, which is made in-house by the bartenders.
Other starts I would recommend trying are the oysters and for the more adventourous, they do have tasty pig parts and escargot.
We arrived just as they were switching over to dinner and got to try some signature dishes including the Coq Au Vin and the Bouillabaisse, which I believe I actually heard about first from one of Andrew Zimmern's episode.
I absolutely loved the Bouillabaisse, I mean, what's not to love about a dish full of seafood? Bouillabaisse is a stew originally made by fisherman using bony rockfish they were unable to sell to restaurants or markets. Kendall's version includes more than just fish, as it also incorporates mussels, clams, shrimp, calamari, saffron broth, fennel, leeks, marble potatoes, and rouille. There was something super comforting about this dish and I loved the lightness of the broth. It comes with a side of bread for dipping, which I highly recommend.
The Coq Au Vin is a Jidori chicken dish braised with wine and included some fresh vegetables. While I didn't try this dish, KSOLE did and loved it. I believe he ate the entire dish himself, haha.
It may not be the most photogenic but it's certainly scores points on the taste scale. Not to mention that the portions are actually pretty big and will leave you full. But don't forget to save room for dessert!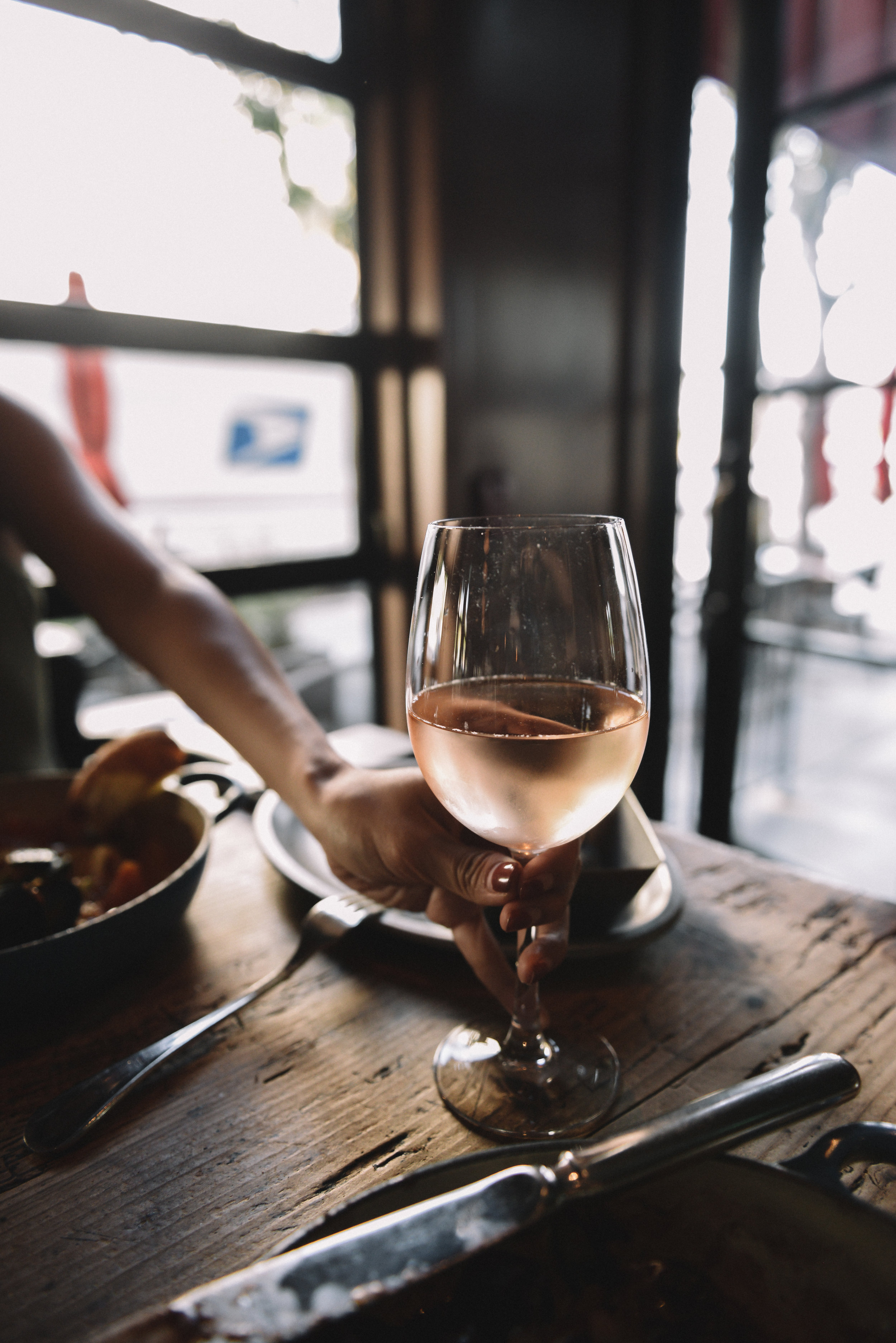 We paired the Coq Au Vin with a glass of rosé that the bartender selected himself.
Highly suggested to have them pair your entree for you.
Per usual, I always end my meals with a cup of coffee and of course, I wouldn't miss the opportunity to do so at a French restaurant.
I ordered macarons for dessert, typical. But we also got the Floating Island, which had a marshmallow texture and was covered in caramel sauce, candied almonds, and tasted like heaven. I suggest sharing this!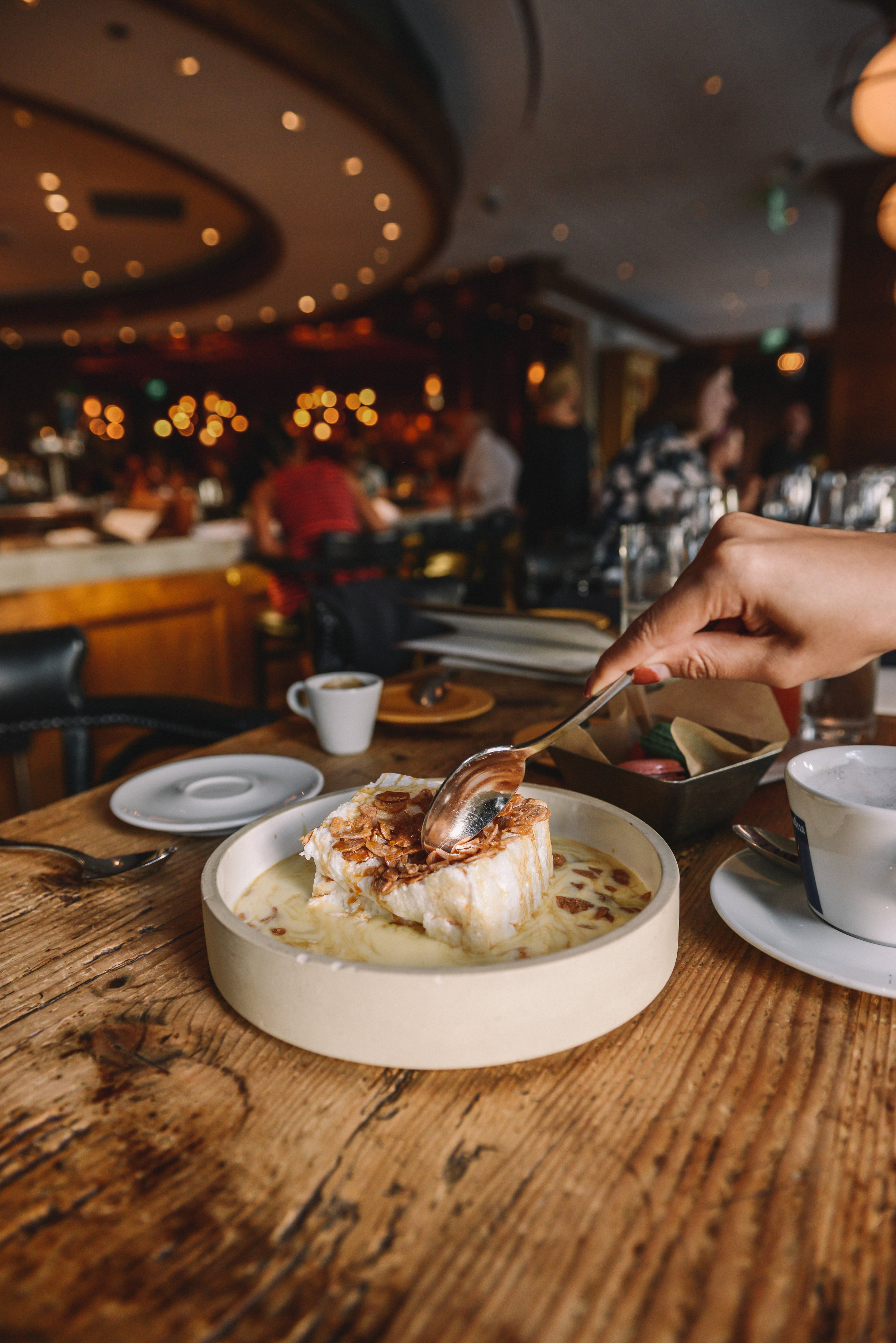 Crème anglaise, poached meringue, candied almonds, caramel sauce
We had an amazing dinner and aim to come back for that speakeasy. Thank you Kendall's Brasserie for hosting us.