Sanctuary at Camelback Mountain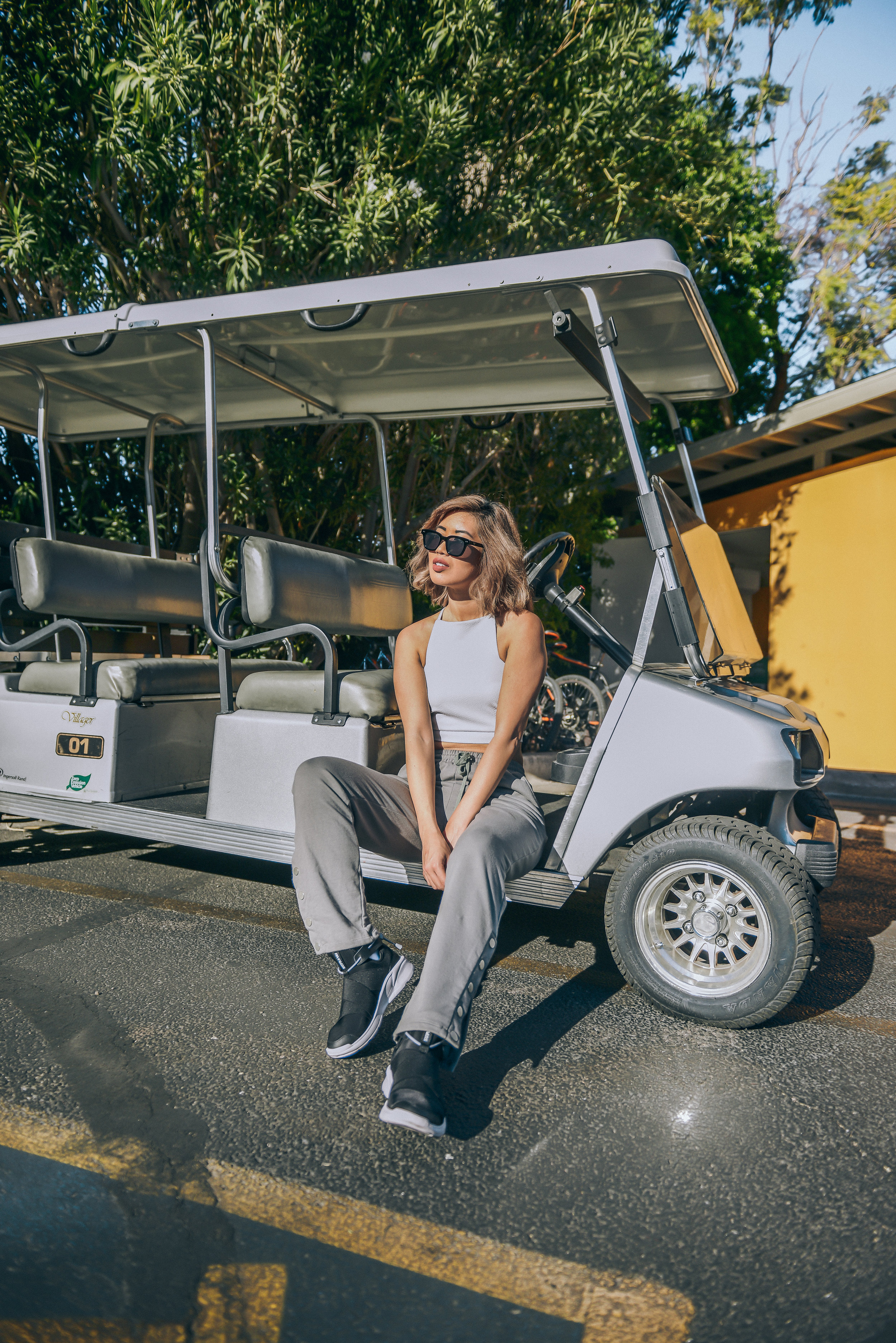 I just want to start off by saying that you should absolutely learn from my mistake and double check the address before ordering your Uber. Apparently, typing in "The Sanctuary" into Uber gives you a horse ranch that's 50 minutes away from the actual resort. Yeah, our Uber driver was not happy.
But when we finally got to Sanctuary Camelback Mountain, we were greeted by the friendliest staff and a beautiful mountain backdrop. The mistake allowed us to arrive right on time to catch the sun setting, so I guess it was actually a good thing that I screwed up (hah).
Sanctuary Camelback Mountain is located in Scottsdale, Arizona, just a 30-minute drive from downtown Phoenix but far enough from the business of city life. Popularly known for their mountain views and restaurant, Elements, the resort has 53 acres of land that awaits you. And don't worry, there is always a golf cart escort available to pick you up.
Let's talk about first impressions of the room. We were upgraded to a mountain suite upon arrival, which features chic modern decor and layered light options. Our huge 1-bedroom suite featured a gorgeous sky-lit bathroom with a shower and tub. Unfortunately, with the lighting, it was difficult to capture the true beauty of the bathroom so you'll just have to trust me or book a stay ;)
While the bathroom is something to rave about, the highlight of our stay was sleeping in the comfiest king bed every night. It was so relaxing that I went to bed at 9 PM during our stay. I typically sleep at 1 AM and while I tried to stay up to work, the bed was calling my name.
With the rare 8 hours of sleep, mornings were spent with coffee and sunrises on our patio balcony facing the mountains. The suite came with a kitchen, but we still opted for room service. I mean, how can I say no to fresh squeezed orange juice and lox bagel?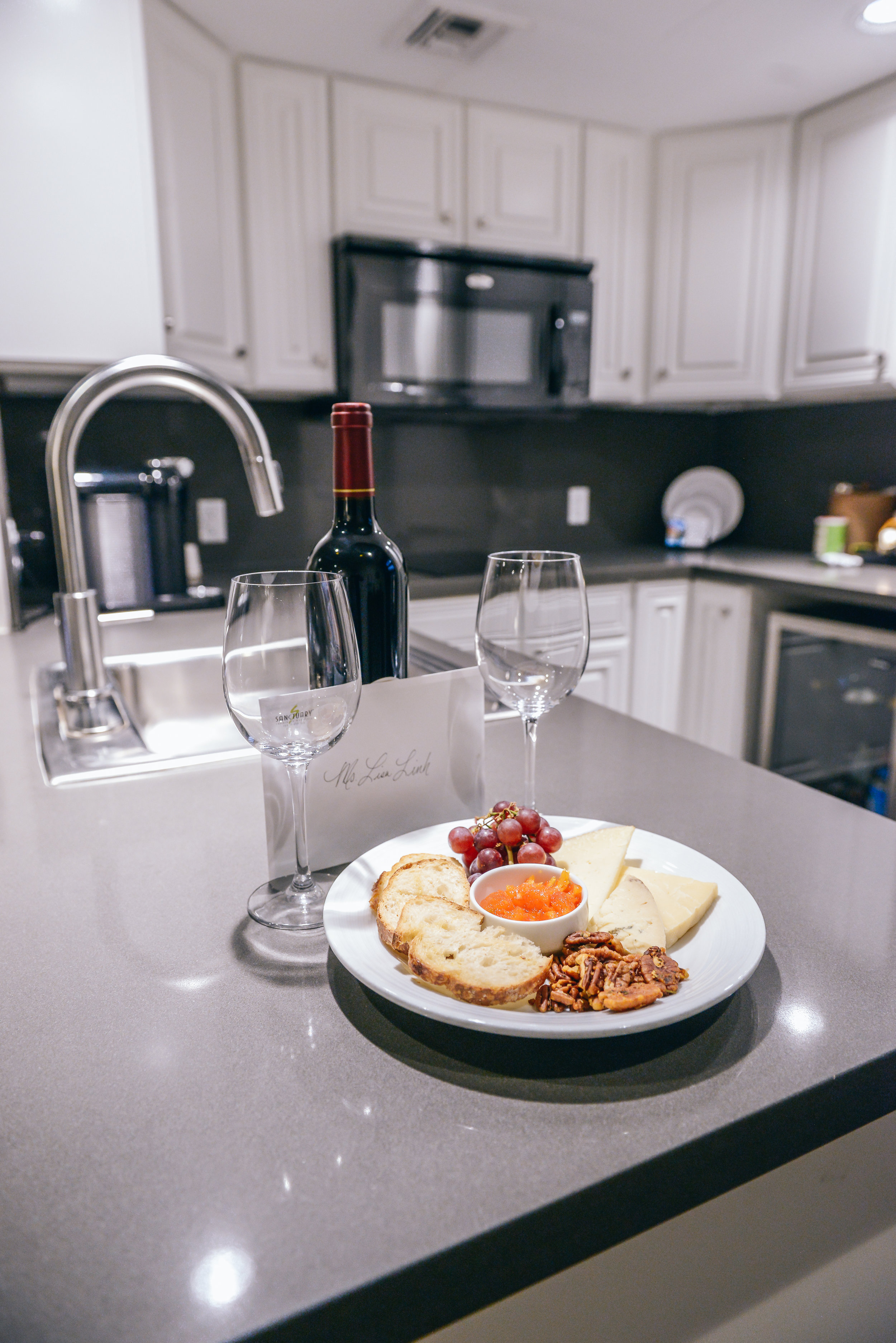 Thank you Sanctuary for the sweet surprise!
While room service for breakfast is always a good idea, I highly recommend spending a night at Elements, an award-winning array of farm-fresh American cuisine with Asian accents presented by Food Network star and Chef Beau MacMillan.
The onsite restaurant is a favorite amongst the city and after our experience there, I can easily see why. From presentation to flavorful twists to classic dishes, Chef Beau MacMillan certainly took great care to pay attention to details of each dish.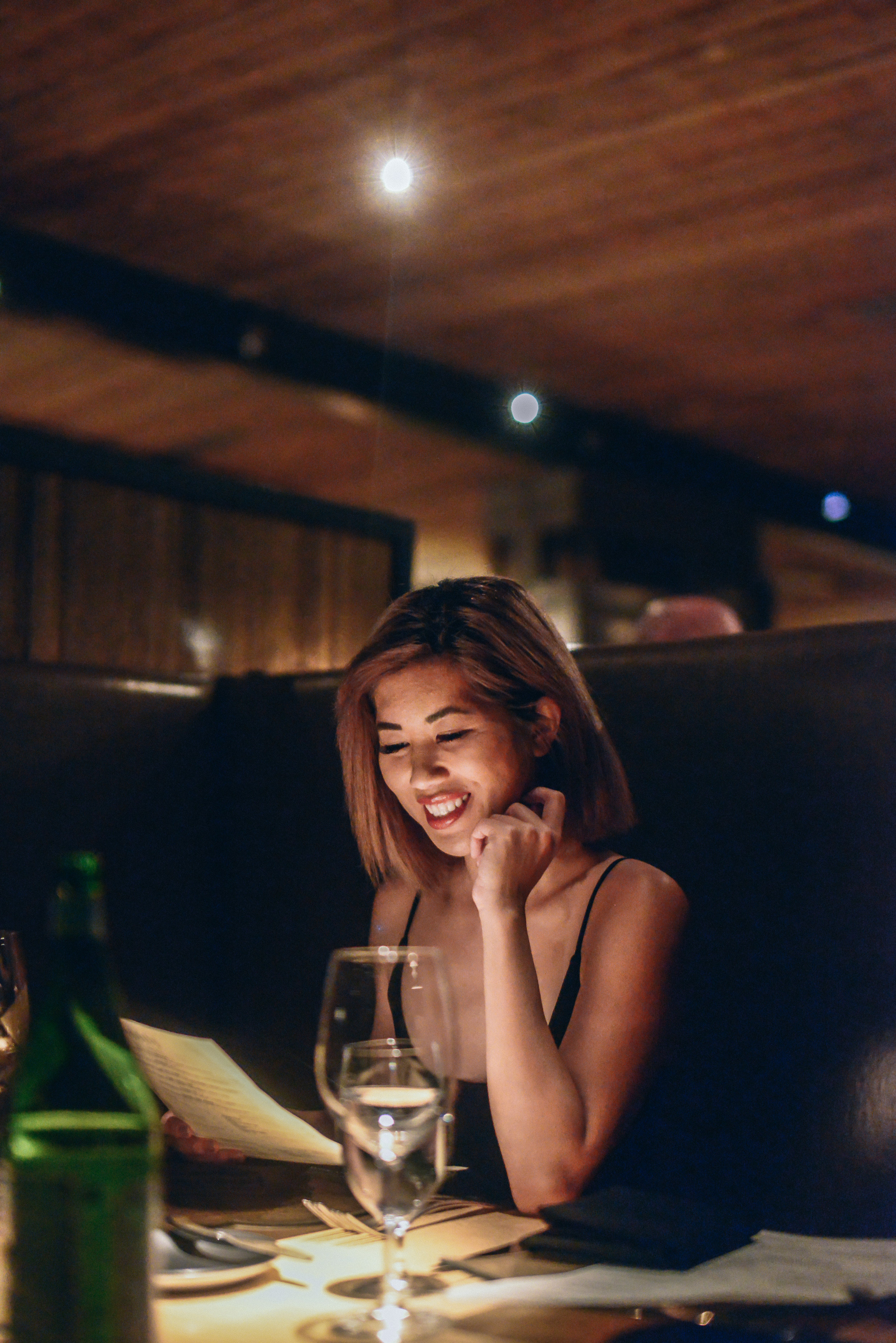 The menu offered a variety of great selections that it was hard to pick what to eat. So I did what ever GF would do, made KSOLE get the other entree I wanted and shared :)
Our server started off with telling us some specials before offering recommendations, in which we took him up on the shishito peppers and calamari. Absolutely no regrets. I've had my fair share of both appetizers before but the sauce on the peppers and breading on the calamari complimented the dishes really well.
We also opted for the lobster bisque and salad, both equally good but I will have to say that I personally preferred the shishito peppers of the four starters.
As for the main courses, we had a hard choice between the hoisin braised short ribs, pork chop, and the NY strip steak, a special for the night. We decided to go with the short ribs and the NY strip steak, both were flavorful and cooked perfectly.
Of course, we had to get dessert and if you know me, you know I love a good s'more. We shared their version of s'mores, which included a chocolate mousse and caramel gelato. We also shared a roasted apple tart, which was equally mouthwatering.
We finished dinner with an espresso shot for KSOLE and a cup of coffee for me. Hands down, one of the best dining experiences we've had and highly recommend to anyone visiting the area.
I honestly can't remember the last time I left a resort feeling 100% refreshed and relaxed. It was such a peaceful experience and whenever I get a chance to really unwind, I truly appreciate it.
Thank you Sanctuary for an amazing time. I truly cannot wait to go back!